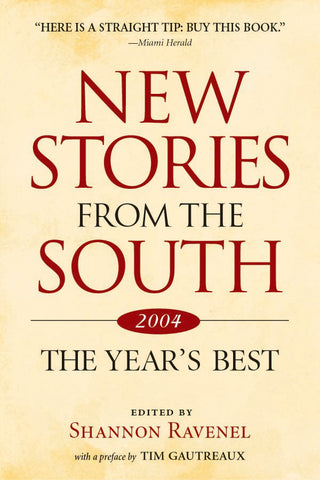 New Stories from the South 2004
As it approaches its twentieth year, Shannon Ravenel's anthology has taken on a kind of cult status among readers, writers, teachers of short fiction, and trend watchers. It was here that some of the most well-respected voices of the last two decades were first recognized, here that writers tell us they were discovered by agents, here that they landed their first book deals. And for readers looking for fresh, exciting short fiction, here is where they'll find it. Ravenel has once again put together a stellar lineup of stories that makes this anthology not just a mark of distinction for writers, but a must-have for short-story aficionados and lovers of Southern fiction.

The stories in the nineteenth volume of New Stories from the South continue to spotlight the jewels of the South, both discovered and on the verge, featuring Edward P. Jones, George Singleton, Chris Offutt, Annette Sanford, Rick Bass, Silas House, Starkey Flythe, Michael Knight, and more. Each story is followed by the author's note about its origin. With a preface by bestselling writer Tim Gautreaux, this volume promises to be another collector's edition.