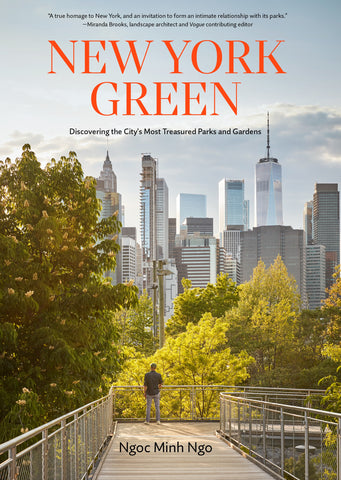 New York Green
This beautifully photographed guidebook celebrates New York City's most exceptional—and often overlooked—parks and gardens, all open to the public!

New York City is filled to the brim with beautiful, unique green spaces—if you know where to look. From the Church of St. Luke in the Fields in the West Village to the Brooklyn Grange rooftop farm in the Navy Yard, the Isamu Noguchi Foundation and Garden Museum in Queens to New York's Chinese Scholar's Garden in Staten Island, celebrated photographer Ngoc Minh Ngo takes readers on a tour of the most exceptional gardens and parks across the five boroughs in this lushly illustrated guidebook.

Through Ngoc's beautifully photographed and well-researched profiles, readers will not only discover parks and gardens they never knew existed, but they will also learn the fascinating history of green spaces in New York and about the innovative new projects being undertaken to ensure we all can enjoy them for years to come. Head up to the nearly century-old Met Cloisters to discover a garden filled with plants depicted in the museum's medieval art collection, and an herb garden planted exclusively with species known in the Middle Ages. Then travel to Brooklyn to visit the Gil Hodges Community Garden, a tiny oasis along the Gowanus Canal and a critical piece of the city's green infrastructure: storm water is absorbed, filtered, and diverted to the garden, relieving pressure on the sewer system and thereby protecting the local waterways from contamination. The book features wildlife preserves and community vegetable patches, sprawling old-growth forests and vest-pocket parks of less than five thousand square feet. Each one tells a story, and offers a wonderful refuge from the hustle and bustle of the concrete jungle.