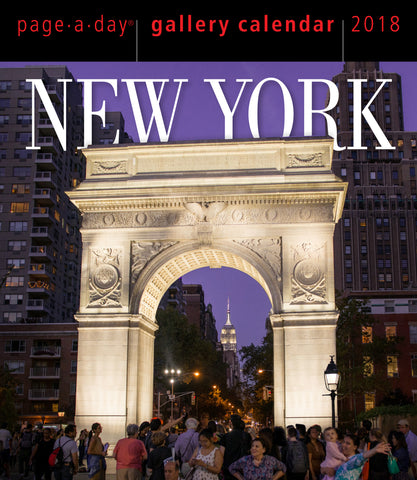 New York Page-A-Day Gallery Calendar 2018
A sophisticated calendar for the tens of millions of people who love the city that never sleeps. With over 300 full-color and black-and-white photographs on coated paper, the calendar is a tribute in pictures to the glamour and glittering lights, the architecture, the rhythms, the icons past and present. Every day captures the city's inimitable, chaotic spirit, from the historic and cultural landmarks of Museum Mile to the hip, eccentric eateries along the Bowery; from the verdant paths of Central Park to the breathtaking pink-and-orange sunsets over the Hudson. Vibrant, energetic, and elegant, the New York Gallery Calendar exquisitely distills the soul of the city and the people who love it.

The Rolex of calendars, the Page-A-Day Gallery Calendar elevates what a calendar can be, incorporating engaging content with the weight, style, and visual richness usually reserved for art books. A sophisticated gift for collectors, connoisseurs, and aficionados—and an aesthetic upgrade for any desktop.