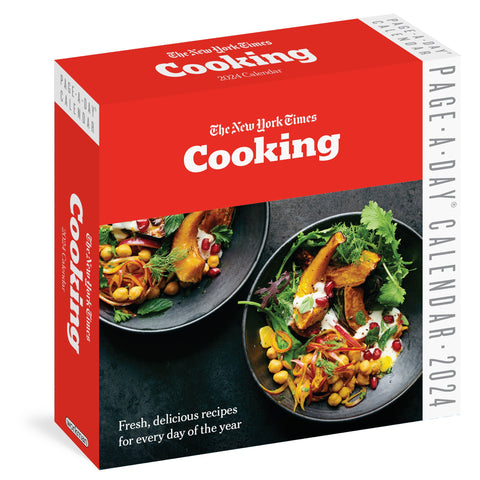 New York Times Cooking Page-A-Day Calendar 2024
A year of recipes from New York Times Cooking.
 It's the best of the best: the tastiest recipes from the most authoritative source, delivered daily. Curated by New York Times Cooking's expert editors and authors, including Sam Sifton, David Tanis, Melissa Clark, Yotem Ottolenghi, Millie Peartree, and more, this calendar answers the age-old question—what's for dinner? For a winter Sunday, there's a hearty Dijon and Cognac Beef Stew. Luscious Maple-Baked Salmon for a quick but elegant weekday dinner, perfect for guests or when you want something a little more special. A bursting-with-flavor Almond Cake with Saffron and Honey, and hundreds more recipes for unforgettable meals, snacks, and desserts. Each recipe includes approximate time from start to finish, number of portions, and easy-to-follow instructions. It's the perfect gift for anyone seeking inspiration in the kitchen. Printed on responsibly sourced paper and 100% recyclable.