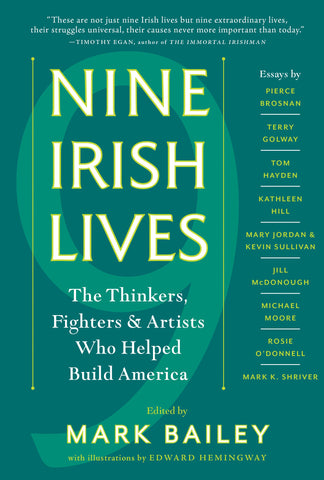 Nine Irish Lives
"These are not just nine Irish lives but nine extraordinary lives, their struggles universal, their causes never more important than today. As the saying goes, the best stories belong to those who can tell them. And these are well told, by some of our best storytellers."

—Timothy Egan, New York Times bestselling author of The Immortal Irishman

 
In this entertaining and timely anthology, nine contemporary Irish Americans present the stories of nine inspiring Irish immigrants whose compassion, creativity, and indefatigable spirit helped shape America.

The authors here bring to bear their own life experiences as they reflect on their subjects, in each essay telling a unique and surprisingly intimate story. Rosie O'Donnell, an adoptive mother of five, writes about Margaret Haughery, the Mother of Orphans. Poet Jill McDonough recounts the story of a particularly brave Civil War soldier, and filmmaker and activist Michael Moore presents the original muckraking journalist, Samuel McClure. Novelist Kathleen Hill reflects on famed New Yorker writer Maeve Brennan, and historian Terry Golway examines the life of pivotal labor leader Mother Jones.

 In his final written work, activist and politician Tom Hayden explores his own namesake, Thomas Addis Emmet. Nonprofit executive Mark Shriver writes about the priest who founded Boys Town, and celebrated actor Pierce Brosnan—himself a painter in his spare time—writes about silent film director Rex Ingram, also a sculptor. And a pair of Pulitzer Prize–winning journalists, Mary Jordan and Kevin Sullivan, take on the story of Niall O'Dowd, the news publisher who brokered peace in Northern Ireland.

Each of these remarkable stories serves as a reflection—and celebration—of our nation's shared values, ever more meaningful as we debate the issue of immigration today. Through the battles they fought, the cases they argued, the words they wrote, and the lives they touched, the nine Irish men and women profiled in these pages left behind something greater than their individual accomplishments—our America.