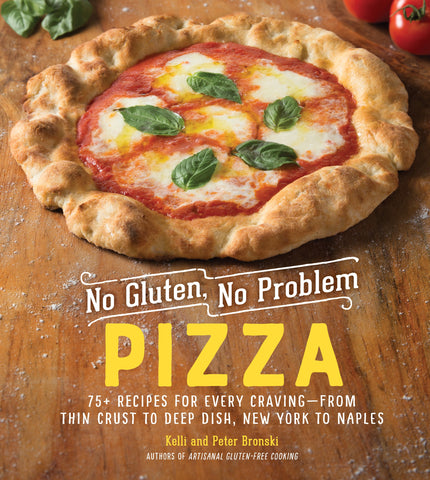 No Gluten, No Problem Pizza
Learn how to make the best gluten-free pizza you've ever had in this definitive guide—from the authors of the forthcoming Kids Cook Gluten-Free
For Kelli and Peter Bronski, pizza is a passion. So when Peter was diagnosed with celiac disease, they set out on a mission—to master the art of gluten-free pizza-making themselves. With insights from the best 
pizzaioli 
from Naples to New York City and beyond—and more than a decade of gluten-free recipe experience—they tested over one thousand pies in pursuit of the perfect gluten-free pizza. Now, they deliver the spectacular result:
Seventy-five recipes with all of the authentic flavor and texture of traditional pizza, but none of the gluten
Every step of the process explained, from making the perfect flour blends to launching your pizza into the oven—and everything in between
Fifteen (!) kinds of dough covering all the major pizza styles, including puffy Neapolitan, traditional New York, crispy Roman, buttery Chicago deep dish, and thick-crust Detroit and Sicilian pies
You'll find:
Classic and creative flavor combinations, like Rustic Pepperoni, Thai Chicken, and Wild Mushroom
Grain-free and nutrient-rich pizzas, like Pesto Farinata, Cauliflower and Zucchini Crusts, and Teff and Buckwheat Doughs
Pizzas for every meal, like Chocolate-Hazelnut Dessert Pizza, Lox and Cream Cheese Breakfast Pizza
Fried and filled pizzas, focaccia, and flatbreads, like Montanara Pizza, Calzones, Rosemary Focaccia, and Fig and Prosciutto Flatbread
Everyone deserves great pizza—and with this book, you can finally have it!