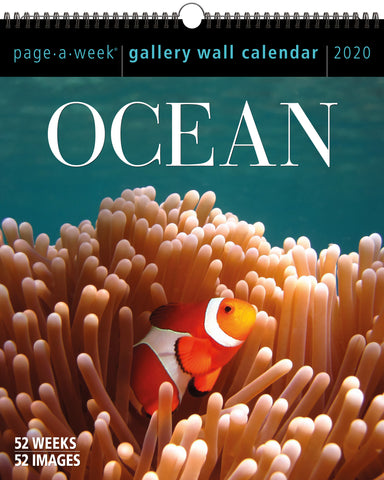 Ocean Page-A-Week Gallery Wall Calendar 2020
A breathtaking visual tour of the ocean's great biodiversity.

An astounding frontier of innumerable depths, the ocean beckons with mystery, drama, and indescribable beauty. Capturing its spectacular variety, the debut Ocean Page-A-Week Gallery Calendar is a year of 52 richly detailed photographic posters, with color and texture that astounds. There are magenta pygmy seahorses, effervescent flashing "electric" clams, and peacefully gliding sea turtles. A school of fish forms a wall of eye-popping silver. And, an emblem of calm: a gently-swaying forest of giant kelp. For green enthusiasts of all ages, and fans of nature documentaries and David Attenborough, Ocean is a riveting, transportive escape into an extraordinary realm.

Page-a-Week® Gallery Wall Calendars feature art book design, heavy-coated paper stock, and rich, full-color photographs. 52 breathtaking, poster-style images are like works of art for your wall, complemented by a practical weekly grid.