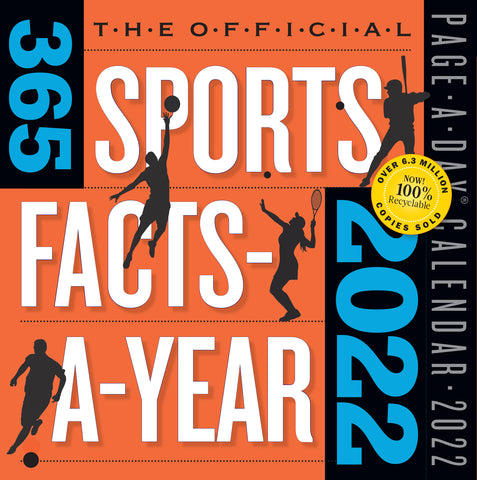 Official 365 Sports Facts-A-Year Page-A-Day Calendar 2022
The gift for die-hard sports fans!

365 Sports Facts-A-Year feeds the die-hard fan's passion with a daily fact, stat, or great moment in sports history. Relive the triumphs, the rivalries, the routs, the rush of adrenaline of cheering on your team. Yao Ming faces Shaq for the first time—and prevails, helping lead the Rockets to a 108–104 overtime win. George Foreman upsets titleholder Joe Frazier with six knockdowns in two rounds. Just 17 years old, polio survivor Tenley Albright becomes the first American woman to win the world figure skating gold. Plus quotes and trivia: Who was the first female jockey to win a Triple Crown race? Julie Krone, riding Colonial Affair to victory at the 1993 Belmont Stakes. Now 100% recyclable and printed on FSC-certified paper.