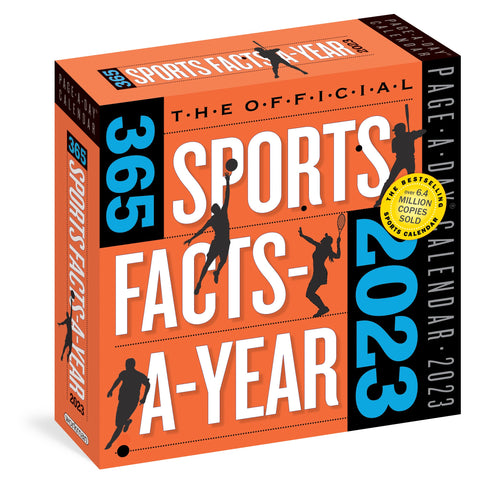 Official 365 Sports Facts-A-Year Page-A-Day Calendar 2023
An adrenaline rush for the true-blue sports fanatic—day after day.

We're talking amazing plays, come-from-behind victories, unbeaten records, infamous rivalries, and outsized personalities. The Red Sox send Babe Ruth packing to the Yankees, only to see him nearly double his own home run record. Margaret Smith and Rod Laver both win singles titles at the 1960 Australian Open—the first Grand Slam wins in each of their storied careers. Plus Shaun White's halfpipe victory in Turin and other memorable Olympic moments, the Cubs and the Mets open the 2000 season before 55,000 fans in Tokyo, and trivia: Who scored the first (and third) touchdown in Super Bowl history? (Green Bay wide receiver Max McGee, after scoring only one touchdown the entire preceding season.) Printed on responsibly sourced paper and 100% recyclable.