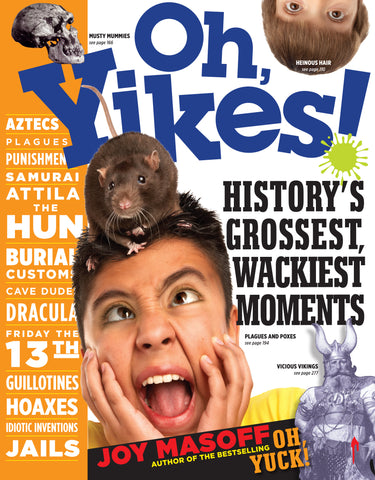 Oh, Yikes!
Gross is back and viler than ever! From the author of Oh, Yuck! the perennial bestseller about science with over 610,000 copies in print, comes OH, YIKES!, an illustrated encyclopedia of history's messiest, dumbest, grossest, wackiest, and weirdest moments.

If kids think pus and gas are fun, wait until they hear the lowdown on the real Dracula, samurai, gladiators, guillotines and vomitoriums, pirates, Vikings, witch trials, and the world's poxiest plagues. Impeccably researched, deliciously wry, and subversively educational (check out the toilet-paper timeline), OH, YIKES! covers people, events, institutions, and really bad ideas, alphabetically from April Fool's Day to zany Zoos. Here are the Aztecs, sacrificing 250,000 people a year for the gods—and for food. Fearsome Attila the Hun, scourge of the steppes whose spinning eyes terrified his friends and whose mastery of horses terrorized his enemies (how does someone so evil die? Nosebleed!). Saur, the 11th-century dog-king of Norway (and not too bad as kings go). Henry VIII and his marital problems, the story of the Abominable Snowman and the Loch Ness Monster, why sailors in the old days preferred eating in the dark (hint: you can't see what's crawling in your food), and the answer to the question, "How did knights in armor go to the bathroom?"

Topped off with hundreds of illustrations and photographs along with hands-on activities that bring the past to life, OH, YIKES! puts the juice in history in a way that makes it irresistible.