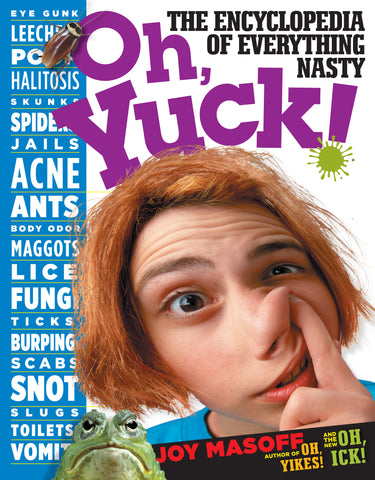 Oh, Yuck!
Kids love stuff that's gross. From the liquids, solids, and gases--especially the gases!--or their own bodies to the creepy, crawly, slimy, slithery, fetid, and feculent phenomena in the world at large, kids with a curious bent just can't get enough. Oh, Yuck! The Encyclopedia of Everything Nasty brings together, in one book, all the good things about some of the baddest things on Earth.

Exhaustively researched and impeccably scientific, yet written with a lively lack of earnestness, Oh, Yuck! is an ants to zits encyclopedic compendium covering people, animals, insects, plants, foods, and more. Here are vampire bats, which sip blood and pee at the same time so that they'll always be light enough to fly away; and slime eels, wreathed in mucus and eating fellow fish from the inside out. Oh, Yuck! explains why vomit smells; where dandruff comes from; what pus is all about; and why maggots adore rotting meant. Other features include gross recipes, putrid projects, 10 foods that make you airborne, and more.

With hundreds of cartoon illustrations and real-life photographs, Oh, Yuck! is the complete guide to the irresistible--at least to an 8-to-12 year old--underbelly of life.