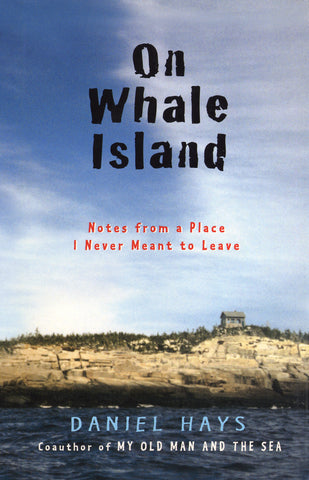 On Whale Island
After Daniel Hays and his father built a twenty-five-foot boat and sailed it around Cape Horn, he thought he'd finally put his wanderlust to rest. He went back to school, bought a house, took a job, got married.

But as it turned out, in the real world Daniel Hays felt lost. So he took his love for the sea and his need to escape civilization and pushed it further: he bought an island off the coast of Nova Scotia; built a tiny house; packed up his wife and stepson, two dogs, and three boatloads of supplies; and moved there.

This is the story of fulfilling a fantasy: to live by your own rules and your own wits. And Daniel Hays, as readers of My Old Man and the Sea will remember, is well equipped to do both. He generates electricity from solar power and a terrifying windmill, funnels rainwater for their showers, creates a toilet seat out of a whale vertebra, strings their bed up on pulleys so that by day it can be lifted out of the way. For him, every morning is a wonder and every storm a blood-coursing thrill.

But while Daniel loves this permanent boy's life, his wife longs for the life they left behind, and his spirited stepson is feeling isolated. Soon, their Swiss Family Robinson existence becomes a vision only Daniel can see.

Funny, tender, and fascinating, filled with the details of an unconventional life, this is the story of how the Hays family lived on Whale Island, and how, finally, they had to leave.