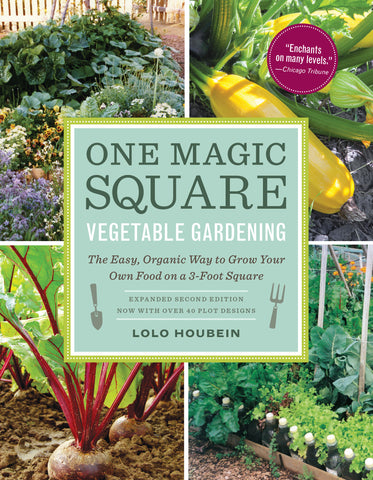 One Magic Square Vegetable Gardening
All it takes to grow your own organic vegetables, fruits, and herbs is One Magic Square
Lolo Houbein has 40 years' worth of gardening wisdom to share—on how to coax an abundance of organic food from a plot that is just 3 feet square!
Sustainable, cost-effective, and creative techniques: how to compost, save water, troubleshoot weeds and pests, create a plant-friendly microclimate, and more
Over 40 themed plot designs, from antioxidant-rich and anti-cancer plots to salad, pizza, pasta, and stir-fry plots
Encyclopedic information about every crop in every plot
Tips on drying, freezing, pickling, and other ways to get more value and enjoyment from your homegrown produce
And her irresistible gardening philosophy ("If herbs wanted to be used frugally, they would also grow frugally. But they don't!")
Ever encouraging, often charming, and always practical, this expanded second edition of
One Magic Square Vegetable Gardening
will help first-time gardeners get started—and help veteran gardeners get results—on a small, easy-to-maintain plot. No actual magic is required!