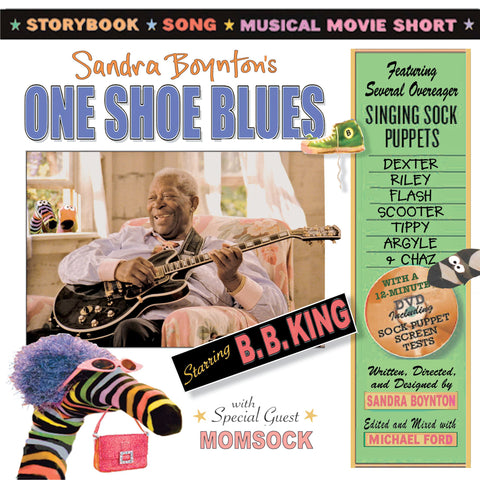 One Shoe Blues
One Shoe Blues is a thoroughly captivating story and a dazzling music video. And what an unexpected yet oddly perfect team: Sandra Boynton and—wait for it—B.B. King! Boynton writes, designs, and directs (her first film ever), B.B. stars (singing, playing, and turning in a wry and brilliant comic acting performance), and exuberant Boynton sock puppets chime in.

The song that first appeared—to widespread acclaim—in the celebrated Blue Moo: 17 Jukebox Hits from Way Back Never now becomes a true star turn. The DVD showcases B.B. King's legendary musical talent and sublime good-natured performance. Boynton writes the companion storybook with her unmistakable cadence and humor, and illustrates the book with lively and fanciful photographs from the video and beyond. Sock puppets lend pizzazz and gravitas throughout.

The subject is pure fun that every child (and parent) can relate to, the story of a missing shoe. Sporting a lone green sneaker, B.B. King sings the "One Shoe Blues" while his faithful guitar, Lucille, comments here and there with those famous soulful blues notes. A supporting cast of sock puppets make brief surprise appearances—and, in the case of that saxophone-playing, rhinestone-sunglasses-wearing Momsock, grills B.B. on where he might have left his shoe.

The answer, so plain to see, will tickle kids again and again.

Read it. Watch it. Sing it. It's fun from every direction.