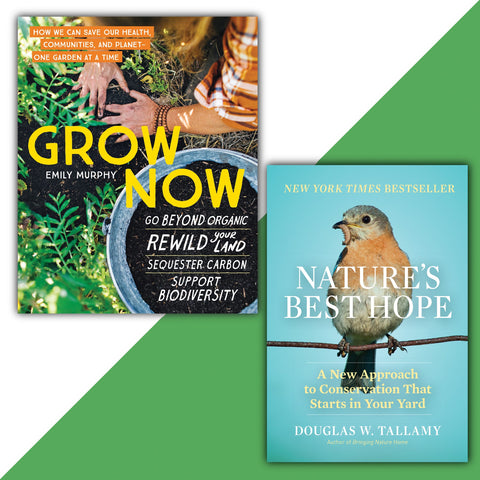 Organic Gardening Gift Set
Plant a garden that celebrates biodiversity and makes a difference for wildlife.
Website exclusive 2-book set.

 
Gardening is climate activism! And you can have a garden that's equal parts food source and wildlife haven? In Grow Now, Emily Murphy shares easy-to-follow principles for regenerative gardening that foster biodiversity and improve soil health. She also shows how every single yard mirrors and connects to the greater ecosystem around us. An actionable, hopeful, and joyful roadmap for growing our way to individual climate contributions.
 
Nature's Best Hope, from bestselling author Douglas Tallamy, shows how homeowners everywhere can turn their yards into conservation corridors that provide wildlife habitats. Because this approach relies on the initiatives of private individuals, it is immune from the whims of government policy. Even more important, it's practical, effective, and easy—you will walk away with specific suggestions you can incorporate into your own yard. If you're concerned about doing something good for the environment, Nature's Best Hope is the blueprint you need. By acting now, you can help preserve our precious wildlife—and the planet—for future generations.