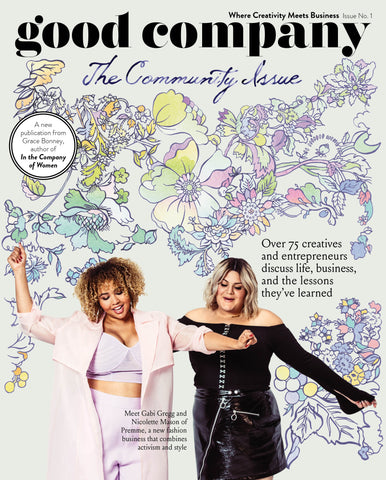 Good Company (Issue 1)
Inspired by the success of her latest book, In the Company of Women, Grace Bonney's Good Company will provide motivation, inspiration, practical advice, and a vital sense of connection and community for women and nonbinary creatives at every stage of life. Each issue of Good Company focuses on one overarching theme, including Change, Fear, Community, Mentors, and much more.

Content includes first-person essays and pep talks from well-known creatives, studio visits and interviews, group discussions, and in-depth explorations of specific fields and niches, from designers in rural areas to the next generation of publishers providing platforms for marginalized voices and communities.

With its emphasis on the power of inclusivity, community, and embracing our differences, Good Company  provides an energetic, safe, and supportive place to connect, learn, grow, and work through the challenges that creative people experience in pursuing their passions and dreams.