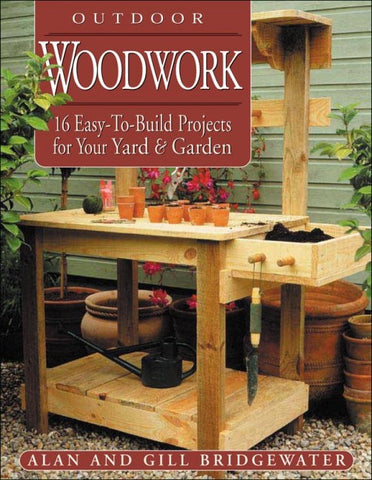 Outdoor Woodwork
There's more to a cultivated country spread or city terrace garden than the plants. People increasingly see their gardens as outdoor rooms, and they want to furnish and decorate them as attractively and comfortably as any other part of the home. Who doesn't dream of having coffee on the garden bench, eating lunch at a handmade picnic table, or snuggling with a lover under an arbor in the moonlight or in a gazebo during a thunderstorm?
Readily available, easy to work with, and inexpensive, wood is the ideal material for creating stylish and practical garden features. And you can often use low-cost, rough-cut wood straight from the sawmill for rustic, outdoor projects.
OUTDOOR WOODWORK offers 16 functional and attractive projects for the garden, including fences and gates, benches and chairs, decking, sheds, arbors, pergolas, trellises, planters, picnic tables, and a child's playhouse and treehouse. Each project has clear, step-by-step instructions and diagrams accompanied by full-color photographs showing the finished piece in its garden setting. Expert advice on staining and varnishing ensures that wooden garden features will stand up to the outdoor elements for years to come. This book is ideal as a reference for beginners and as a sourcebook of inspiration for more experienced do-it-yourself enthusiasts.