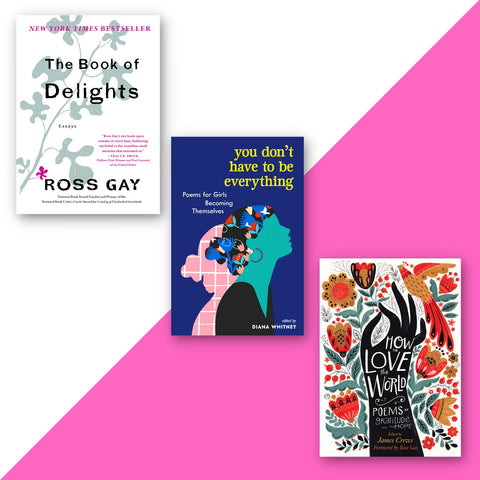 Passionate Prose & Poetry Collection
Inspiring reading for teens and adults, including bestselling essays and poetry.

The Book of Delights
The New York Times bestselling book of essays celebrating ordinary delights in the world around us by one America's most original and observant writers, award-winning poet Ross Gay. "Ross Gay's eye lands upon wonder at every turn, bolstering my belief in the countless small miracles that surround us." —Tracy K. Smith, Pulitzer Prize winner and U.S. Poet Laureate

How to Love the World: Poems of Gratitude and Hope
What the world needs now: uplifting, deeply felt, and relatable poems by well-known poets from all walks of life and all parts of the US, including inaugural poet Amanda Gorman, Joy Harjo, Naomi Shihab Nye, Ross Gay, Tracy K. Smith, and others.

You Don't Have to Be Everything: Poems for Girls Becoming Themselves
 Created and compiled just for young women, You Don't Have to Be Everything is filled with works by a wide range of poets—including Amanda Gorman, Maya Angelou, Kate Baer, and Sharon Olds—who are honest, unafraid, and skilled at addressing the complex feelings of coming-of-age, from loneliness to joy, longing to solace, attitude to humor. These unintimidating poems offer girls a message of self-acceptance and strength, giving them permission to let go of shame and perfectionism.