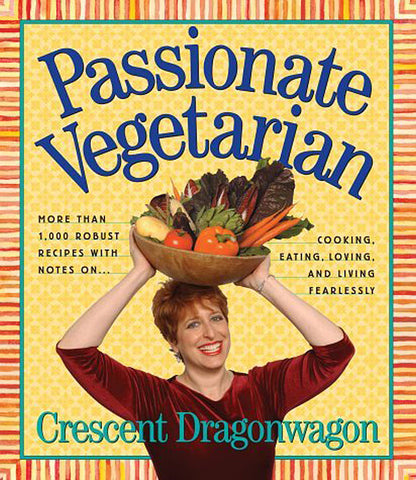 Passionate Vegetarian
Introducing a new voice in vegetarian cooking. Packed with 1,000 recipes that are seductive, sexy, and utterly delicious, Passionate Vegetarian covers all the bases of meatless cooking, from east (Stir Fry of Asparagus with Black Bean-Ginger Sauce), west (Talk of the Town Barbecued Tofu), from the Mediterranean (Swiss Chard with Raisins, Onions & Olives) to the American South (Black-Eyed Pea Ragovt). You'll find lush lasagnas; plump pierogies; bountiful burgers, beans, and breads; pleasing pasta and pies. You'll spoon up soups and stews, and delight in desserts from simple to swoonworthy.

Written by longtime vegetarian Crescent Dragonwagon, author of Dairy Hollow House Soup & Bread Cookbook, Passionate Vegetarian employs innovative methods (try "Ri-sort-ofs," in which risotto technique is used to create splendid, richly flavored grain dishes built around not just rice but also barley, buckwheat, spelt, and even toasted oats with an array of seasonings) and introduces lesser-known ingredients (get to know and love not just tofu and tempeh but a whole new generation of soyfoods, as well as "Quick Fixes" like instant bean flakes). Opinionated, passionate, and deeply personal, Ms. Dragonwagon's tantalizing headnotes will have readers rushing to the kitchen to start cooking. (Can her over-the-top Garlic Spaghetti really be that good? It is.)

Whether you're a committed vegetarian, a dedicated vegan (most recipes offer low-fat and vegan options), or a food-loving omnivore in search of something new and wonderful, this is not just vegetarian cooking--but cooking, period--at its most creative, inspiring, and exuberant.