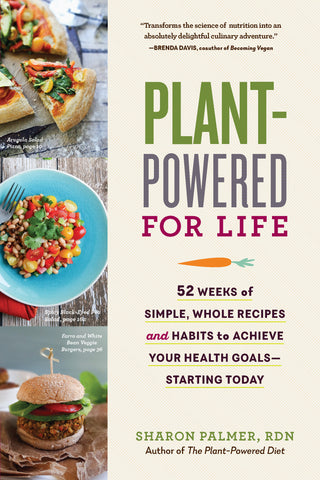 Plant-Powered for Life
Fall in love with whole plant foods, and they will love you back!
52 simple steps and 125 globally inspired recipes show the way"Will help eaters of all persuasions, from carnivores to vegans, make plant-based meals fun and exciting."—Peggy Neu, President, The Monday Campaigns
Fruits, veggies, whole grains, legumes, nuts, and other plant-based foods can work wonders for your health and vitality—and they're delicious when done right! Still, many of us don't get enough.
Whether you're a meat-loving omnivore or junk-food vegan, if you've been meaning to eat more whole plant foods, Plant-Powered for Life is for you. Sharon Palmer, RDN, helps you set a personal goal (anything from "I will eat a plant-based meal every day" to "I will go 100 percent vegan"), then approach it at your own pace by taking 52 simple steps and cooking 125 mouthwatering recipes, in any order you like.
Whatever your starting point, this handy guide (complete with gorgeous full-page photos) will inspire you to forge new habits, cook great food, and enjoy a health, plant-powered life—one tasty step at a time.
Soon enough, you'll:
Love your legumes for protein and beyond
French Lentil Salad with Cherry Tomatoes
Eat well on the run
Curried Tofu Papaya Wraps
Embrace whole grains for health and flavor
Persian Couscous with Apricots and Pistachios
Eat your way to the end of the rainbow
Blueberry Oatmeal Waffles
Share the plant-powered love!
Carrot Spice Cupcakes with Chocolate "Cream Cheese" Frosting