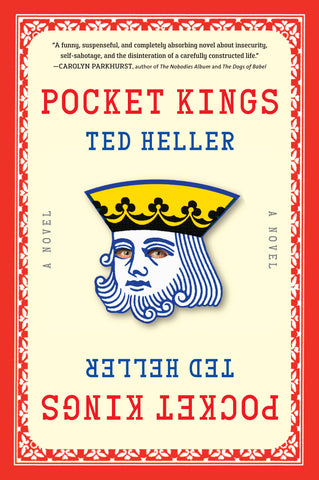 Pocket Kings
In this dead-on satire of online obsessions, a novelist with writer's block finds a new—and very lucrative—stream of income in a virtual world that appears to give him everything he lacks in the real world.

When Frank Dixon, a frustrated writer who has seen his career crash and burn, decides to dabble in online poker, he discovers he has a knack for winning. In this newfound realm, populated by alluring characters—each of them elusive, mysterious, and glamorous—he becomes a smash success: popular, rich, and loved. Going by the name Chip Zero, he sees his fortunes and romantic liaisons thrive in cyberspace while he remains blind to the fact that his real life is sinking. His online success, however, does not come without complications, as he comes to realize that his "virtual" friends and lovers are, in fact, very real, and one rival player is not at all happy that Mr. Zero has taken all his money.

Heller's cautionary tale is continually surprising and startlingly real, a tour de force of satirical storytelling in the vein of Jonathan Tropper and Sam Lipsyte.