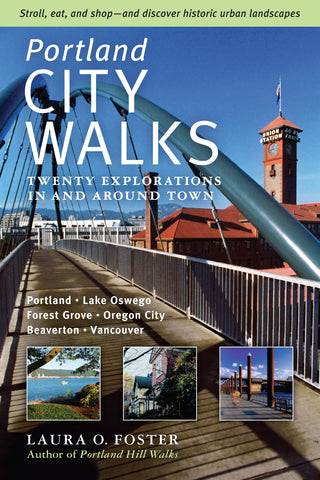 Portland City Walks
From the inspired creator of the beloved Portland Hill Walks comes a rich collection of twenty eye-opening walks exploring the backstreets and back stories of the neighborhoods of Portland and five nearby towns.

Laura Foster's new walking routes are easy to follow, self-guided, and accessible by public transportation. They also include plenty of snacks and offbeat treasures along the way. From Goose Hollow to Garden Home, Laurelhurst to Lake Oswego, Forest Grove to Vancouver, walks range in length from 2 to 6 miles, with alternate loops for flexibility. Want to explore architecture and engineering? Walks include a centuries-old farmhouse nestled in a city neighborhood and a track made from 20,000 Nike athletic shoes. Interested in the stories of historic Portland businesses? Walks include fun facts about Captain John Couch, William Lair Hill, Fred Meyer, Guy Carr, and Michael Powell.

Portland City Walks lets readers peel back the layers of history as they walk the stories of a city's neighborhoods and experience its joys as never before.