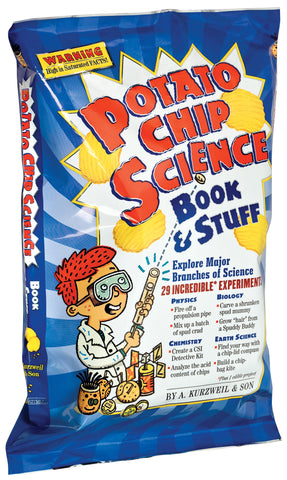 Potato Chip Science
You won't believe what you can learn from a potato chip!
There's a new branch of science in town—
Potato Chip Science
—a grab-bag of nourishing lessons in everything from physics to forensics, from navigation to neuroscience.
Packaged up in actual potato chip bag is an experimental world cooked up for kids who like science, and snacks, and snacking on science. Filled with whole brain goodness, this kit features 29 different snacktivities based entirely on the planet's most miraculous munchies. We bet you can't try just one!
You won't believe what's in the bag!
96-page book
Spud-powered sound chip
Potato propulsion pipe
Spud-powered clock
Electrodes
Optical stickers
Biodegradable packaging chips
Wire connectors
Googly eyes
Eco-friendly starch knife