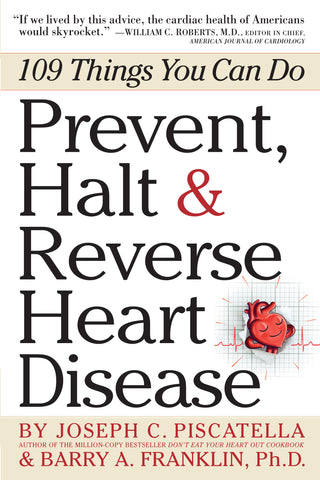 Prevent, Halt & Reverse Heart Disease
When your doctor delivers the news—you have heart disease, which afflicts one in three Americans (an estimated 81 million people)—you need exactly the kind of indispensable, plainspoken advice found in Prevent, Halt & Reverse Heart Disease. You need Joe Piscatella. A lay expert who's been lecturing to health professionals and Fortune 500 corporations for three decades, and who is one of the longest-lived survivors of bypass surgery— 32 years and counting—Piscatella shows how to take charge of one's cardiac health in a bold yet simple, easily understandable way.

Created by Mr. Piscatella and Dr. Barry Franklin, one of the nation's top cardiac rehab specialists, Prevent, Halt & Reverse Heart Disease was originally published in 2003 and is now completely revised and updated with the latest research on managing the #1 killer of American men and women. The book is divided into three sections: Cardiac Markers (10 of the most important risk factors are examined so that you can assess your risk and understand what the doctor is telling you); Life Skills (the 109 practical tips, from #3 increase your HDL level to #22 breathe deeply to #99 know your margarines to #109 floss your teeth); and Cardiac Basics (an explanation of contemporary tests and treatments). Throughout is information updated since the first edition, such as the recommended dose of baby aspirin per day, the importance of sleep, a smarter way to read food tables, the PLAC test, and more.