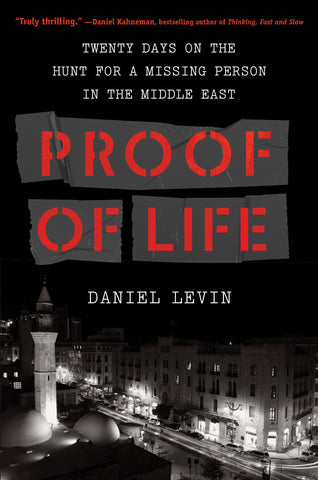 Proof of Life
"Riveting . . . Well-written and highly compelling."—Wall Street Journal

​"Truly thrilling. Daniel Levin brilliantly conveys both the menace and the evil of Middle Eastern intrigue, and some victories of human kindness over cruelty and despair."—Daniel Kahneman, New York Times bestselling author of Thinking, Fast and Slow 

Daniel Levin was in his New York office when he got a call from an acquaintance with an urgent, cryptic request to meet in Paris. A young man had gone missing in Syria. No government, embassy, or intelligence agency would help. Could he? Would he? So begins a suspenseful, shocking, and at times brutal true story of one man's search to find a miss­ing person in Syria over twenty tense days. Levin, a lawyer turned armed-conflict negotia­tor, chases leads throughout the Middle East, meeting with powerful sheikhs, drug lords, and sex traffickers in his pursuit of the truth.

In Proof of Life, Levin dives deep into the shadows—an underground industry of war where everything is for sale, including arms, drugs, and even people. He offers a fasci­nating study of how people use leverage to get what they want from one another and of a place where no one does a favor without wanting something in return, whether it's immediately or years down the road.

A fast-paced thriller wrapped in a memoir, Proof of Life is a cinematic must-read by an author with access to a world that usually remains hidden.