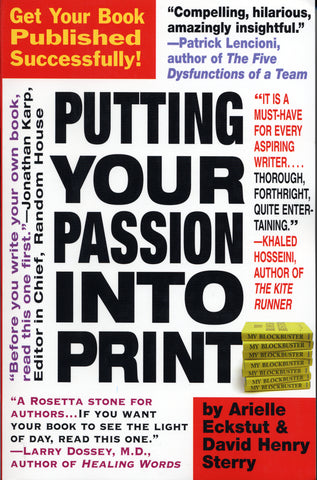 Putting Your Passion Into Print
You have an idea. A great idea. Now what? Whether you dream of having your name on the cover of a successful book (and 81% of Americans believe they have a book in them), or you're a seasoned yet frustrated veteran of the publishing jungle, this nuts-and-bolts guide demystifies every aspect of the publishing process.
Husband-and-wife team Arielle Eckstut and David Henry Sterry, who developed the enormously popular Putting Your Passion into Print seminar at Stanford University, are known to their students as "the Click and Clack of publishing." Whether the thought is large (how does one deal with rejection) or small (why is it that a "special pen" works such magic), they cover all the bases. How to:
Choose a top-of-the-heap idea;Come up with a blockbuster title;
Craft an attention-getting pitch;
Create a selling proposal;
Find the right agent, publisher and editor;
Understand a book contract and royalty statements;
Enhance presentation skills;
Develop sales, marketing, and publicity savvy;
and, if necessary, self-publish (as did Irma Rombauer for The Joy of Cooking and James Redfield for The Celestine Prophesy).
No matter if you're a literary fiction writer, a romance novelist, an academic looking to reach a popular audience, or a memoirist wanting to publish your life story,
Putting Your Passion to Print
shares a wealth of experience and insight from people who've been there and done that. Includes interviews with hundreds of publishing insiders—agents, editors, authors, and booksellers; side boxes featuring real-life publishing success stories; sample proposals, query letters, a resource guide, and more.