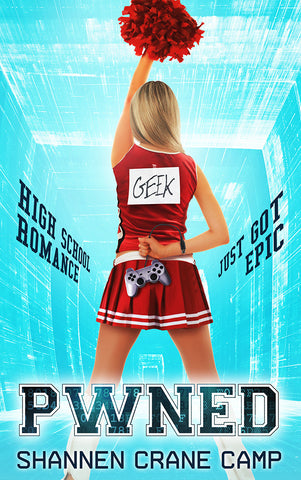 Pwned
A Gamer Girl/Gamer Boy Romance

Reagan West has the perfect life. She's gorgeous, she's popular, and she's at the tip-top of the high school food chain as co-captain of the cheer leading squad. She's also best friends with the most evil girl in Albany, Tawny Perez, which means she's never on the receiving end of Tawny's wrath. 

The only trouble in Reagan's perfect life comes from the constant threat of her fellow classmates discovering her dirty little secret—Reagan West is a closet gamer. 

What's more, Reagan absolutely hates her role as the evil cheerleader. But, as any teenager knows, it's better to suppress your own nerdy tendencies than to submit to a lifetime of being shoved into lockers. So, Reagan bravely soldiers on as a reluctant bully . . . until a cute boy from her guild moves to her school and becomes Tawny's next target. The good-looking newcomer threatens to reveal Reagan's nerdy little secret and force her to come to terms with who she truly is. Now Reagan has to decide if she's going to defend her fellow geeks, or if she'll continue to be a total troll.

Readers of LitRPG will enjoy this high school gamer romance.