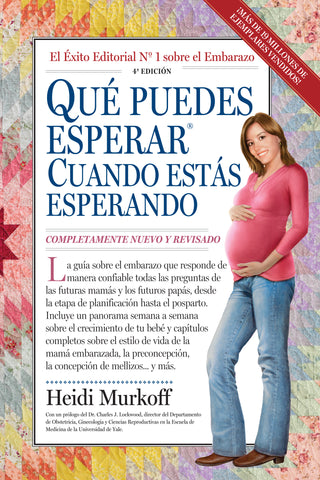 Qué puedes esperar cuando estás esperando
Esta traducción al español del libro considerado como la biblia del embarazo en Norteamérica con más 19 millones de copias impresas, What to Expect When You're Expecting: 4th Edition, es más vital, menos formal y más sencilla de entender de manera general que cualquier otra anterior. Es un libro dirigido a padres que esperan un bebé y quienes no dominan el inglés o quienes, en un momento de estrés como este, prefieren lo que les resulta más familiar – su primer idioma.
Está repleto de información actualizada no sólo sobre lo nuevo que se sabe sobre el embarazo, pero también sobre los temas que son relevantes para las embarazadas. Heidi Murkoff ha respondido decenas de nuevas preguntas e incluido nuevos materiales requeridos por los lectores, como, por ejemplo, una sección detallada en todos los capítulos sobre cada mes del embarazo sobre el desarrollo fetal en cada una de las semanas de este, un capítulo expandido sobre la pre-concepción y uno completamente nuevo sobre embarazos múltiples. Siendo más completa, reconfortante y empática que todas las anteriores, esta edición incorpora nuevos descubrimientos en obstetricia y toca diferentes tendencias actuales (desde el tatuaje y otras modificaciones corporales hasta el Botox y la aromaterapia). Hay mucho más que antes sobre temas prácticos (incluyendo una sección aumentada sobre cuestiones relacionadas con el sitio laboral), físicos (con más síntomas y soluciones para estos), emocionales (más consejos sobre cómo navegar la montaña rusa emocional), nutricionales (desde la dieta baja en carbohidratos hasta la vegana y desde la comida chatarra hasta la adicción a la cafeína) y sexuales (lo que es excitante y lo que no lo es al hacer el amor durante el embarazo), así como mucho más apoyo para ese muy importante socio en la maternidad: el papá.

Con derroche de consejos útiles y humor (el mejor amigo de una mujer embarazada), esta nueva edición es más asequible y fácil de usar que en el pasado. Es todo lo que los padres esperan de Que puedes esperar . . . durante el embarazo, pero mucho mejor.

This Spanish-language translation of What to Expect When You're Expecting: 4th Edition, America's pregnancy bible with over 19 million copies in print, is livelier, less formal, and altogether more user-friendly than ever before. It's a book for expectant parents who don't speak English or who, at a stressful time, find that what's most familiar—their first language—is most welcome.
 
It's filled with up-to-date information reflecting not only what's new in pregnancy but what's relevant to pregnant women. Heidi Murkoff has answered dozens of new questions and included loads of new asked-for material, such as a detailed week-by-week fetal development section in each of the monthly chapters, an expanded chapter on pre-conception, and a brand-new one on carrying multiples. More comprehensive, reassuring, and empathetic than ever, this edition incorporates recent developments in obstetrics and addresses current lifestyle trends (from tattooing and belly piercing to Botox and aromatherapy). There's more than ever on pregnancy matters practical (including an expanded section on workplace concerns), physical (with more symptoms, more solutions), emotional (more advice on riding the mood roller coaster), nutritional (from low-carb to vegan, from junk food–dependent to caffeine-addicted), and sexual (what's hot and what's not in pregnant lovemaking), as well as much more support for that very important partner in parenting, the dad-to-be.

Overflowing with tips, helpful hints, and humor (a pregnant woman's best friend), this new edition is more accessible and easier to use than ever before. It's everything parents-to-be have come to expect from What to Expect . . . only better.