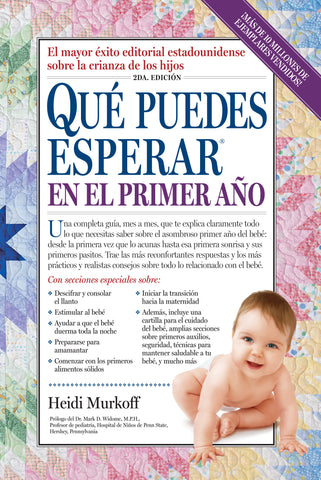 Qué puedes esperar en el primer año, 3rd edition
Translated for the American Spanish-speaking market, the latest edition of What to Expect the First Year, Heidi Murkoff's trusted guide to parenting a newborn through the first year, with every milestone and every question answered.

The Spanish-language translation of What to Expect the First Year, the baby bible with over 11 million copies in print, this is the right book for a huge audience. Close to one million Spanish-speaking women give birth in the United States every year, and this is the lively, comprehensive, and reassuring guide that these families need. It is written for readers who either don't speak English or feel uncertain about their English-language skills; and it is for the pediatrician who is having trouble communicating with their patients.

With the trademark month-by-month format that allows parents to take the potentially overwhelming first year one step at a time, Primer Año is packed with even more practical tips, realistic advice, and relatable, accessible information than before.

Updates include: Information on COVID and vaccines, including breastfeeding and developmental concerns. Baby care fundamentals—crib and sleep safety, feeding, vitamin supplements—are revised to reflect the most recent guidelines. Breastfeeding gets more coverage, from getting started to keeping it going. Hot-button topics: attachment parenting, sleep training, early potty learning (elimination communication), baby-led weaning, and green parenting (from cloth diapers to nontoxic furniture). A chapter on buying for baby helps parents navigate today's gamut of baby products, nursery items, and gear. Plus tips on preparing homemade baby food, the latest recommendations on starting solids, research on the impact of screen time, and "For Parents" boxes that focus on mom's and dad's needs.