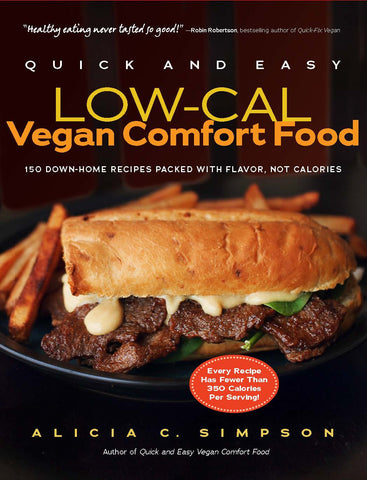 Quick and Easy Low-Cal Vegan Comfort Food
At last, vegan food that packs a heaping helping of comfort without the extra calories!
Alicia C. Simpson, the master of vegan comfort food, is back again with food that's crave-worthy and conscience-friendly: 150 satisfying, flavorful, all-new recipes to enjoy from breakfast to dinner and anytime in between. However you define "comfort food," Alicia's got you covered with down-home Southern standards, Tex-Mex fiesta favorites, backyard BBQ fare, ole-fashioned one-dish meals, riffs on classic takeout—and a few surprises destined to become new standbys:
Baked Hush Puppies • Hoppin' John • Sweet Potato Salad • Meatball Soup • Carolina BBQ Sammich • Chik'n Pot Pie • Kung Pao Tofu • Gyros with Tzatziki Sauce • Butter Rum Pound Cake • Ooey Gooeys • Mexican Hot Cocoa • and more!
Every recipe includes detailed nutritional data on calories, carbohydrates, fat, fiber, and more. Plus, suggested daily menus, ranging from 1,400 to 2,000 calories, make it easier than ever to start cooking food that's good—in every sense of the word!