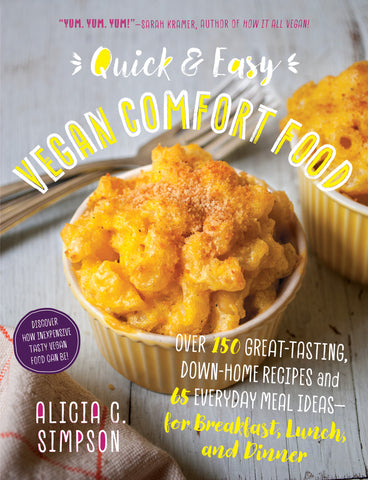 Quick and Easy Vegan Comfort Food
A born food-lover, raised in California on "the best Mexican food in the country" and her father's "traditional Southern soul food," Alicia C. Simpson couldn't imagine giving up her favorite dishes to become vegan. Animal-free food might be healthier, but could it match the tastes of home—like fried chicken, macaroni and cheese, or a bowl of chili? Three years after Alicia took the vegan plunge,
Quick and Easy Vegan Comfort Food
answers that question with a resounding "yes!"
Here is the essential cookbook for any of America's more than 6 million vegans who miss the down-home tastes they remember (or want to try), or for vegetarians and even meat-eaters who want to add more plant-based foods to their diets, but don't know where to start. Comfort-seeking cooks will find:
Easy-to-prepare, animal-free versions of classics like Spicy Buffalo Bites, Ultimate Nachos, Baked Ziti and more
65 delicious combinations for breakfast, lunch, and dinner, with flavors from around the world, like "Chinese Take-In" or "Tijuana Torpedo"
Everything you need to know to start your vegan pantry, and why being vegan is easier, less expensive, and more delicious than you might think.
With spirit and style, Alicia shows just how easy—yes, and comforting—vegan food can be.