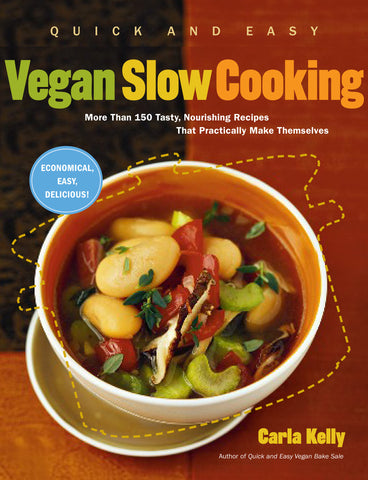 Quick and Easy Vegan Slow Cooking
Who knew "slow" could be so fast? Well, it can be—whether you're an experienced cook or a slow-cooker newbie—with this cookbook of set-and-forget vegan meals!
Ever wished you could have a healthy, delicious, home-cooked dinner waiting for you when you get home? Well, stop dreaming and start cooking! In Quick and Easy Vegan Slow Cooking, Carla Kelly brings you over 150 recipes for nourishing, whole foods–based meals, with easy-to-find, economical ingredients, simple cooking techniques, and minimal prep time. Whatever your skill level, Carla's got you covered for slow-cooked meals year round—from hearty, comforting winter fare to light summer dinners that won't heat up your kitchen.
If you spend a few minutes in the morning or the night before, you can come home to the aromas of these classic favorites and unique new flavors:
• Triple Tomato Soup
• Smoky Mushroom and Tofu Stroganoff
• Pumpkin and Tomato Dal
• Crème of Broccoli Soup 
• Tempeh Tikka Masala
• Kidney Bean and Sweet Potato Chili
• Creamy Leek and Almond Pasta
• Classic Polenta, and much more!
There's something here for everyone and every occasion: Kids will cheer for simple favorites like Franks'n'Beans and Chees-y Mac, and your friends will ooh and aah over sophisticated, holiday-ready dishes like Asparagus and Pine Nut Vodka Risotto. You'll find nourishing soups, stews, casseroles, chilies, curries, pasta bakes, and sides that draw from an eclectic, global range of culinary influences to fill your every craving—not your every moment.
With handy slow-cooking tips, lists of gluten- and soy-free recipes, and a collection of easy sides to accompany your slow-cooked main course, this book is an all-in-one guide for every vegan on the go. So pull out your slow cooker, roll up your sleeves, and get set to forget—until dinnertime, that is!