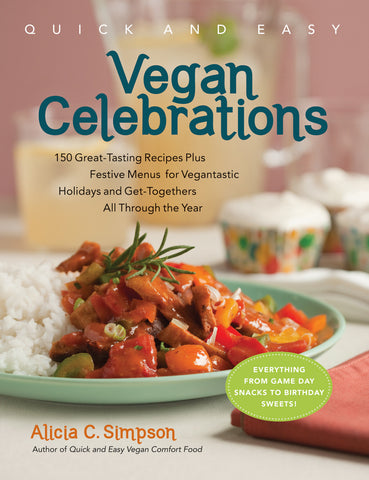 Quick & Easy Vegan Celebrations
Celebrations mean food—lots of it! But if you, your family, or your friends are among the ever-growing millions of people eating vegan, you might be wondering: How can I make classic holiday and party fare—without milk, cheese, eggs, or meat? This cookbook answers that question!
Alicia C. Simpson, author of Quick and Easy Vegan Comfort Food, is out to prove that sharing delicious vegan eats will make you a party starter (and definitely not a party pooper). From Seitan Parmesan and Sweetheart Sangria for Valentine's Day, to "Tourkey" Cutlets and Roasted Garlic Smashed Potatoes for Thanksgiving, Alicia serves up all your holiday favorites—with complete menus for:
New Year's Eve • Valentine's Day • Game Day • Mardi Gras • St. Patrick's Day • Easter • Cinco de Mayo • Independence Day • Halloween • Thanksgiving • Hanukkah • Christmas • Kwanzaa • . . . Plus Birthday Sweets!
Not a gourmet chef? Not to worry! Everything from Naw-Fish Étouffée to Vanilla Bean Ice Cream is quick and easy to prepare. Quick and Easy Vegan Celebrations takes the guesswork out of get-togethers, so all you have to do is send out those invitations—and enjoy the vegan cooking, partying . . . and eating!