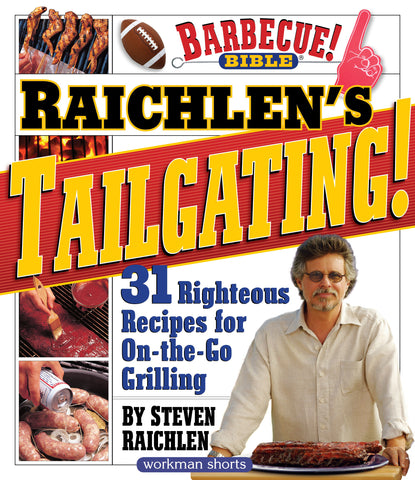 Raichlen's Tailgating!
An indispensable tool for your tailgating arsenal: a season's worth of easy-to-make, sure-to-dazzle recipes from Steven Raichlen, the "gladiator of grilling" (Oprah). Curated from Raichlen's bestselling Barbecue! Bible books, with more than 4 million copies sold, this is an appetizer-to-dessert selection tailored for game-day cooking—and competing.
After setting out a game plan, including tips on how to build a menu, the importance of Brats, the necessity of aluminum drip pans, food safety, and more, Tailgating!  kicks off with Stuffed Grill-Roasted Jalapeño Peppers—spicy, smoking, cheesy, addictive. There's The Great American Hamburger, and four variations. The Bratwurst "Hot Tub," with four steps for grilling sausage without flare-ups. Ribs two ways—Memphis-style and Kansas City–style. The Inimitable Beer-Can Chicken. Santa Maria Tri-Tip (every grillmaster should get to know this specialty cut of beef). Shrimp, wings, grilled corn, and other finger foods. And two desserts to prepare before the coals die down and the game begins: Chocolate Banana S'Mores and Coconut-Grilled Pineapple.