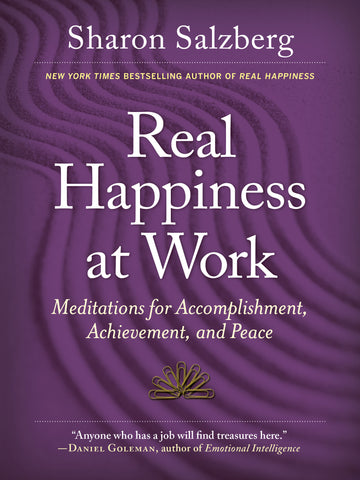 Real Happiness at Work
Bring the profound benefits of meditation into the workplace

And discover how to improve all the positives of working life—such as accomplishment, creativity, teamwork—and mitigate the negatives, including stress, exhaustion, and the feeling of being overwhelmed and underappreciated.

Created by Sharon Salzberg, one of the foremost meditation teachers in the world, here is expert, easy-to-use guidance for cultivating mindfulness, compassion, and awareness at work. Follow her suggestions and discover how to be committed without being consumed; competitive without being cruel; and how to manage time and emotions to counterbalance stress and frustration.

Includes specific meditations designed for workplace issues, "steal meditations that take moments to do and are invisible to office mates, and dozens of exercises, plus helpful Q&As. Includes free downloadable guided meditations.