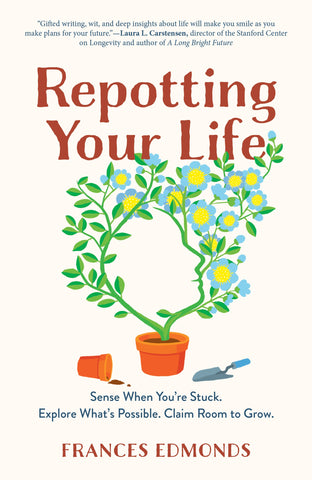 Repotting Your Life
A warmly humane, wise, and witty guide to embracing change in any aspect of your life, whatever your age

What ails a rootbound plant isn't the plant—it's the pot. Move it to a roomy new pot, and soon enough, you'll see beautiful, fresh foliage and blooms. Repotting Your Life brings this same wisdom to your career, relationships, and goals—and right when you need it most: at that soul-searching moment when you feel "stuck."

An award-winning inspirational speaker, Frances Edmonds discovered this ideal metaphor for self-reinvention when she uprooted herself from London to participate in Stanford's Distinguished Careers Institute for midlife professionals. There, she learned to help others recognize when they are languishing, identify a new purpose that matters, and finally make space for transformation. In Repotting Your Life, she shares prompts and exercises (and gentle humor) to guide you through each stage of this journey.

The hardest part of repotting can be to notice that what nourished you then is stifling you now. No matter your age or stage of life, you're never done growing: The summit of one adventure is the starting point of the next. Whether you're craving a career move, a change of surroundings, or a new phase of a relationship, Repotting Your Life will help you design a future full of fresh possibility where you can truly blossom.