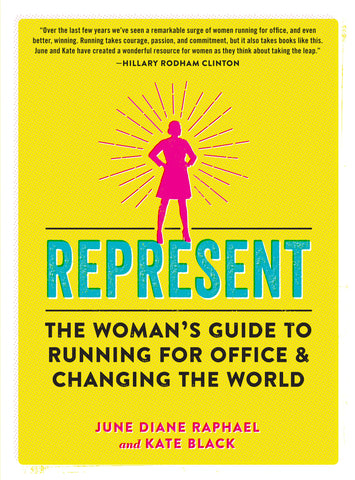 Represent
"Over the last few years we've seen a remarkable surge of women running for office, and even better, winning. Running takes courage, passion, and commitment, but it also takes books like this. June and Kate have created a wonderful resource for women as they think about taking the leap."—Hillary Rodham Clinton

Turn "can I do this?" into "yes, I can!"

Join the growing wave of women leaders with Represent, an energetic, interactive, and inspiring step-by-step guide showing how to run for the approximately 500,000 elected offices in the US. Written with humor and honesty by writer, comedian, actress, and activist June Diane Raphael and Kate Black, former chief of staff at EMILY's list, Represent is structured around a 21-point document called "I'm Running for Office: The Checklist." Doubling as a workbook, Represent covers it all, from the nuts and bolts of where to run, fundraising, and filing deadlines, to issues like balancing family and campaigning, managing social media and how running for office can work in your real life. With infographics, profiles of women politicians, and wisdom and advice from women in office, this is a must-own for any woman thinking of joining the pink wave.