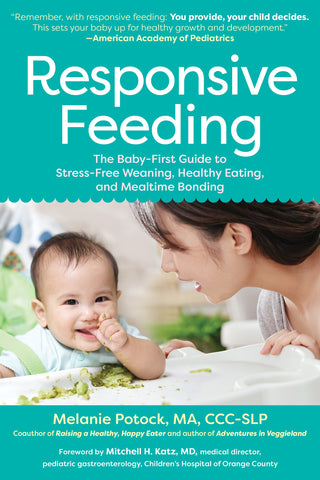 Responsive Feeding
The authoritative guide to feeding babies and toddlers "responsively"—the no-fuss method that follows your child's cues and sets the stage for healthy eating!
When should I start my baby on solids? Should I offer purees— or try baby-led weaning? What if my toddler rejects new foods? Feeding therapist Melanie Potock has answers to all in
Responsive Feeding
. The secret? Tune in to your child's cues, and you'll know what's right for her.
With
Responsive Feeding
, you won't have to choose between the spoon-led and baby-led approach or cajole your baby to "eat up" when he's fussy. Instead, every meal becomes a fun learning experience that will engage each of your baby's senses—and strengthen your bond.  
• Gauge your baby's readiness for solid foods.
• Introduce bold flavors to set the stage for a lifetime of adventurous eating.
• Navigate tricky transitions and picky eating—peacefully.
• Watch your baby become a confident, independent eater!
 
Potock guides parents along every step of the way, from "to bib or not to bib?" and how to wrangle a "food thrower" to the merits of a "nibble tray" for hangry toddlers and considerations for special needs. Raising a mindful, healthy eater is just a bite away!