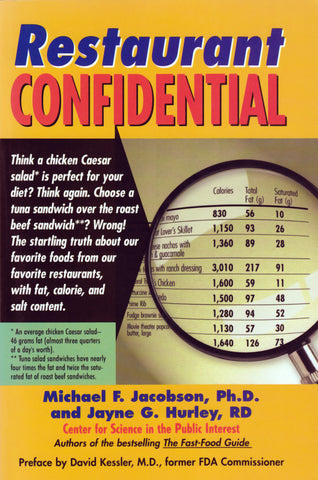 Restaurant Confidential
In May 2001, the Center for Science in the Public Interest (CSPI) broke a major pizza story on the ABC television program 20/20 and once again captured front-page headlines, just as it did when it released studies on movie popcorn and take-out Chinese food.

In Restaurant Confidential, Dr. Michael F. Jacobson and his CSPI team do for sit-down meals what their Fast-Food Guide--with 247,000 copies in print--did for fast food. Belgian Waffle or Rib-Eye Steak? Bloomin' Onion or Mrs. Fields's Double-Fudge Brownie? Americans are now eating almost one-third of their meals outside the home, spending $222 billion annually doing so-and watching their waistlines balloon. What's in this food? To answer, CSPI performs across-the-board restaurant profiles that give straight-shooting scientific data on the fat, sodium, and calorie content of the most popular dishes.

The information is organized by type of cuisine--Chinese, Mexican, steak house, and more--and covers all the major chains, such as The Olive Garden, Applebee's, and Outback. The book provides specific eating strategies for every kind of restaurant, as well as shocking facts: Did you know that a typical order of stuffed potato skins packs a whopping 1,260 calories and 48 grams--two days' worth--of saturated fat? A 10-point plan for ordering wisely, plus dozens of tips throughout, takes the information one step further by showing how to eat happily and healthfully. It's the nutrition book that reads like a thriller. Take the steak and brownies; a whole fried onion with dipping sauce has a blooming 163 grams of fat, and the seemingly innocent Belgian waffle with whipped topping and fruit has even more fat and calories than two sirloin steaks.