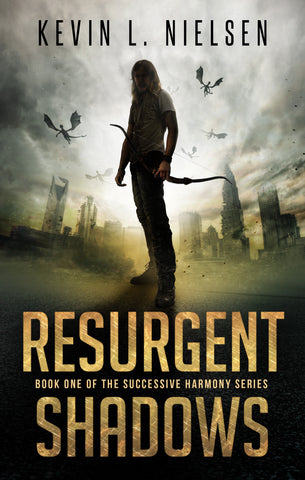 Resurgent Shadows
From Kevin L. Nielsen, #1 Bestselling Author of Sands.

Humanity stands on the brink of annihilation. Dragons fill the skies.

Ever since the Breaking, when earthquakes tore the world apart and unleashed the nightmares of myth and legend, humankind has struggled for survival. 

Caleb is one of the survivors, and the only thing he cares about is getting revenge on the monsters that killed his wife and son. When he saves the life of a dverger—a mythic dwarf-like creature—Caleb discovers that the Breaking may have brought good to the world along with the evil.

On the other side of the country, Eric leads a small group of survivors in relative prosperity until a powerful war hammer is forced into his hands—a weapon with a will of its own so commanding that it sends Eric on a mission with one purpose: destroy the creatures that threaten his home.

Caleb and Eric must each decide to do something no one has dared before: to hunt the Dragonlords.