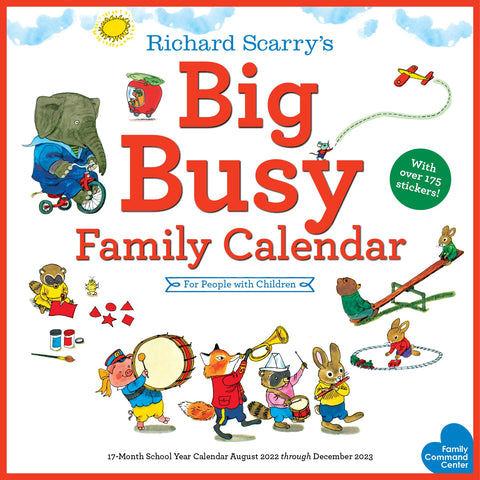 Richard Scarry Big Busy Family 2023 Wall Calendar
 17 months of Huckle Cat, Lowly Worm, and the rest of the Busytown gang!

Treasured for 60 years, Richard Scarry's whimsical drawings and distinctive characters are instantly recognizable across generations. Wherever you hang the Big Busy Family Calendar, will delight children and invoke nostalgia in adults. Running a full 17 months, the calendar features ingeniously designed grids with plenty of room for writing down each family member's daily activities. And we know how busy weekends can get—which is why you'll find extra space for Saturday and Sunday. No confusion, no missed appointments. Just easy organization combined with classic Richard Scarry illustrations. Includes full color stickers and a drop-down storage pocket for receipts and other papers. Printed on responsibly sourced paper.