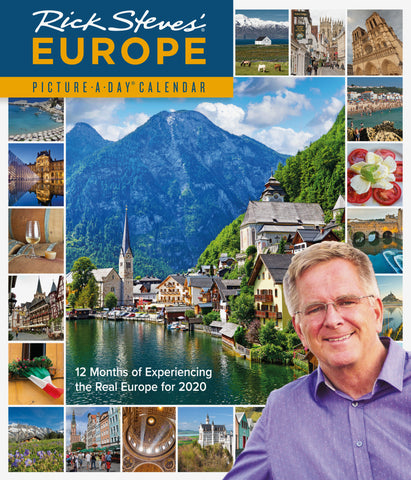 Rick Steves' Europe Picture-A-Day Wall Calendar 2020
Beautiful European villages, authentic dishes, and unforgettable views to inspire you all year long.

There's no better guide to tour you around Europe's diverse attractions—its culture, its cuisine, its historical sites—than Rick Steves. In this new wall calendar, Steves introduces a different region of Europe for every month of the year, diving into its most fascinating, unexpected sites with expert text and hundreds of photographs—not just one photo for each month, but one for nearly every day of the year. Spend April in Spain and run with bulls in Pamplona, or pick up tips on where to nibble the best tapas after marveling at Madrid's Prado museum. In July, find yourself immersed in France's rich culture and history—from Dordogne's prehistoric caves to Normandy's stirring D-Day beaches. With journeys throughout the Swiss and Austrian Alps, Scandinavia, Greece, Portugal, and more, it's the perfect gift for travelers.
                                           
Picture-a-Day ® Wall Calendars include hundreds of gorgeous full-color and black-and-white photographs that indulge our hobbies, curiosities, and obsessions. Each month's grid includes a large image with informative text, plus additional images for nearly every day of the year.