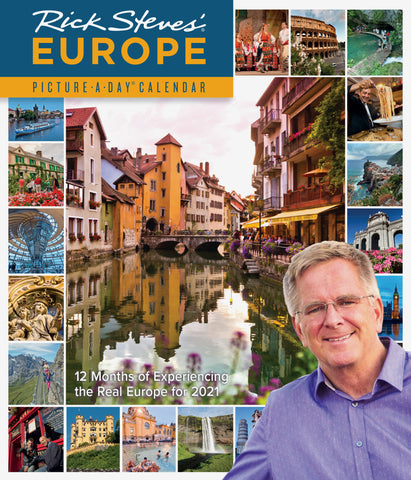 Rick Steves' Europe Picture-A-Day Wall Calendar 2021
What better guide to take you through all the sights of Europe than Rick Steves? 

Brought to you by America's go-to expert on European travel, each month of Rick Steve's Europe Picture-A-Day Calendar highlights a different aspect of exploring the continent. Featuring world class sights, like the Tower of London and Rome's Pantheon; cultural traditions, like celebrating Oktoberfest in Germany and dancing in Greece; natural wonders, like Croatia's lush Plitvice Lakes National Park; plus grand cities, terrific towns, tasty cuisine, art, and much, much more. Each spread features dozens of full-color photographs and engaging text packed with history and tips. 

Printed on FSC-certified paper.