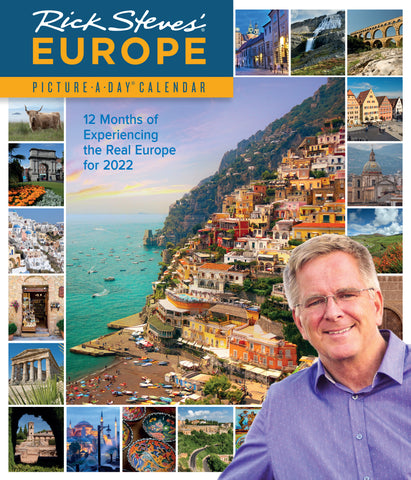 Rick Steves' Europe Picture-A-Day Wall Calendar 2022
A virtual exploration of the best of Europe—the world-class sights, natural wonders, food, festivals, and more—with Rick Steves as your guide.

When it comes to dreaming of European travel,  Rick Steves—writer of 50 guidebooks, a public television series, and an NPR show—is the authority
that Americans trust, because they know he'll steer them to the real Europe. Like the continent's grand cities, from Athens's Parthenon to Berlin's Brandenburg Gate to the Vienna State Opera. Or fascinating castles and palaces, including Istanbul's Topkapi Palace and Dover Castle, which has guarded Britain's shores since the age of Caesar. Or Europe's most iconic (and most delicious) delicacies: decadently topped Belgian waffles, a
towering pile of fish and chips in England, and a comforting bowl of Hungarian goulash. Each spread combines dozens of full-color photographs with detailed text filled with history and insider's tips for making the most of your own visit. Printed on FSC-certified paper.