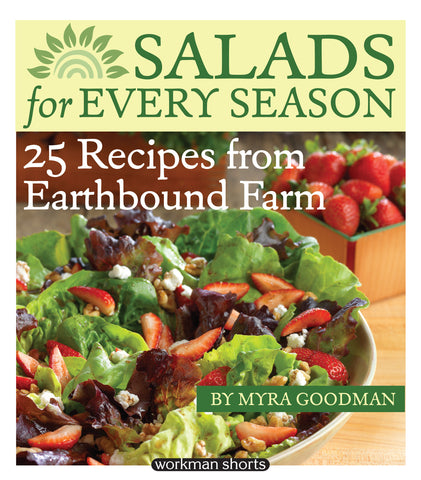 Salads for Every Season
Myra Goodman knows salad. Founder with her husband, Drew, of Earthbound Farm—the largest grower of organic produce in North America—she is the author FOOD TO LIVE BY and THE EARTHBOUND COOK, sumptuous cookbooks built on the idea of fresh, seasonal cooking. From those books, she has culled a useful and inspiring ebook short filled with 25 recipes for salads that showcase the best produce of spring, summer, fall and winter.

Colorful, healthy, and packed with delightful textures and flavors, these are what salads should be.  For Spring and Summer: Strawberry-Tarragon Salad with Aged Balsamic Vinegar; Chopped Summer Vegetable Salad; Farro Salad with Edamame and Arugula; Summer Salad with Butter Lettuce, Raspberries, and Hazelnuts. Fall and Winter: Jicama and Orange Salad with Orange-Sesame Vinaigrette; Escarole with Walnuts, Dates, and Bacon; Roasted Beet Salad alla Caprese; Autumn Salad with Persimmons and Pomegranate Seeds.  Plus a Field Guide to Salad Greens, sidebars exploring ingredients and salad basics, how to grow your own sprouts and infuse your own oils, and a chapter dedicated to versatile dressings and dips.

About this title: Workman Shorts is a line of subject-specific e-books curated from our library of trusted books and authors.