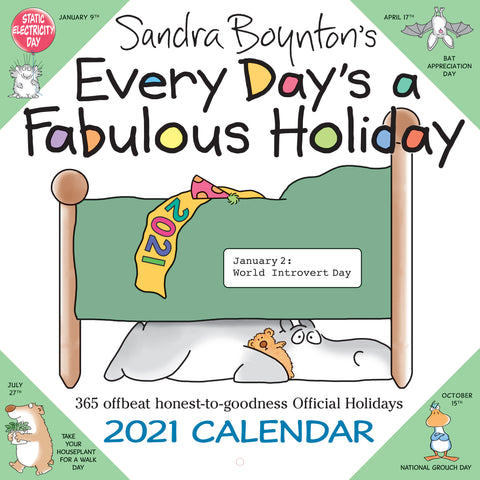 Sandra Boynton's Every Day's a Fabulous Holiday 2021 Wall Calendar
Every Day's a Fabulous Holiday combines two things people love: Sandra Boynton's humorous animal illustrations and holidays. 

But in this case it's not just Christmas and Arbor Day, but a year-long tribute to the obscure, sometimes silly, but always fun-to-commemorate occasions that make ordinary days a little less ordinary. There's February 6th: Ice Cream for Breakfast Day. May 6th: No Homework Day*. September 8th: Iguana Awareness Day. And—dust off the gold parachute pants—October 17th: Wear Something Gaudy Day. Each month's spread features the artist's jazzy chickens, larger-than-life dinosaurs, singing hippos, and other lovable animals with one large illustration at the top of the page and smaller images throughout the grid, all in full color. For the millions of Boynton fans, it's a reason to celebrate every day. Printed on FSC-certified paper.

*Celebrate at your own risk.