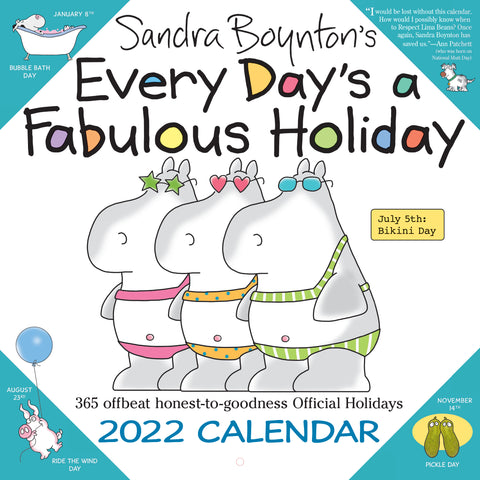 Sandra Boynton's Every Day's a Fabulous Holiday 2022 Wall Calendar
Make every day fabulous with a zany (and real!) holiday celebrated by Sandra Boynton.

Pickle Day (November 14)! Talk Like a Pirate Day (September 19)! Appreciate a Dragon Day (January 16)! Yes! For everyone who loves holidays (and who doesn't?), here's a daily reminder that every day is a holiday—for someone. Celebrating the obscure, offbeat, but awesome occasions that make the most ordinary days special, Every Day's a Fabulous Holiday spotlights 365 little-known but absolutely real—and maybe a little peculiar—holidays. Holidays to make kids happy: No Homework Day (May 6). Holidays to make parents happy: National Clean Up Your Room Day (May 10). Holidays to make everyone happy: International Sweatpants Day (January 21). The lively, full-color grids are illustrated with Sandra Boynton's distinctive, beloved animal art—one fabulous large image up top and lots more terrific, small illustrations throughout the grid below. It's pure Boynton, and pure joy. Printed on FSC-certified paper.