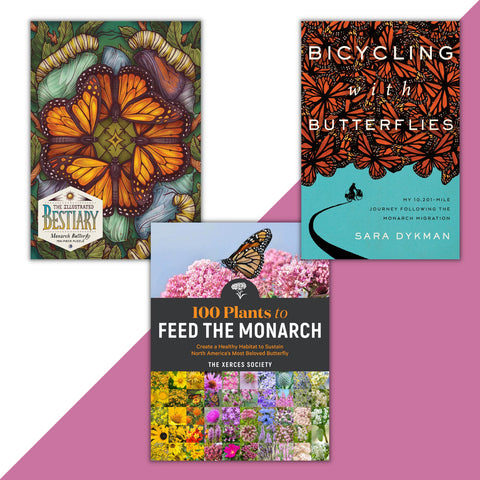 Save the Monarchs!
For all butterfly lovers: fascinating reading, gardening for Monarch appeal, and a jigsaw puzzle!

The Illustrated Bestiary Puzzle: Monarch Butterfly (750 pieces)
This 750-piece puzzle celebrates the beauty and resilience of the Monarch Butterfly's metamorphosis. Illustration by Kate O'Hara. 

100 Plants to Feed the Monarch: Create a Healthy Habitat to Sustain North America's Most Beloved Butterfly
Design and create monarch-friendly landscapes by understanding butterfly behavior and habits. Includes at-a-glance profiles of plant species that provide monarchs with nourishment, plus an in-depth portrait of the monarch, its life cycles, migration, and the threats it now faces due to habitat loss and climate change.

Bicycling with Butterflies: My 10,201-Mile Journey Following the Monarch Migration
Sara Dykman recounts her incredible journey following monarchs on their annual migration (on her bicycle), traveling across three countries and more than 10,000 miles. With both humor and humility, Dykman offers a compelling story, confirming the urgency of saving the threatened monarch migration—and the other threatened systems of nature that affect the survival of us all.