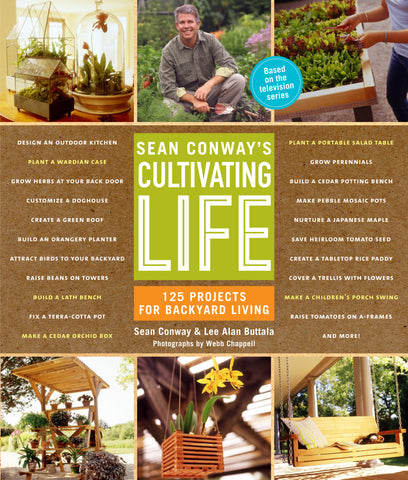 Sean Conway's Cultivating Life
The idea book to outdoor living, by the imaginative team behind the popular television series Cultivating Life.

The backyard is being transformed from an underused patch of grass into the new great room, an extension of Americans' living space. For many months of the year, it can serve as kitchen, family room, and a place to entertain friends and neighbors. Based on ideas from their television series Cultivating Life, Sean Conway and Lee Buttala show how to make outdoor living easier, with simple crafts such as making sun-print tablecloths, time-honored gardening techniques, and stylish ideas for patios and borders.

The versatile projects in this book will enhance any outdoor space. An easy-to-build portable salad table is ideal for growing your favorite greens just outside the back door. A simple and inexpensive water garden adds a touch of elegance to any patio or terrace. And, with clear step-by-step instructions, woodworking projects—such as a bird feeder, a bamboo trellis, or a porch swing—can be tackled in a weekend.

Generously illustrated with beautiful photographs, fun sidebars, and expert tips, Sean Conway's Cultivating Life will inspire readers to make their backyards refuges for enjoying life to the fullest and to make reconnecting to the land as easy as stepping out the back door.