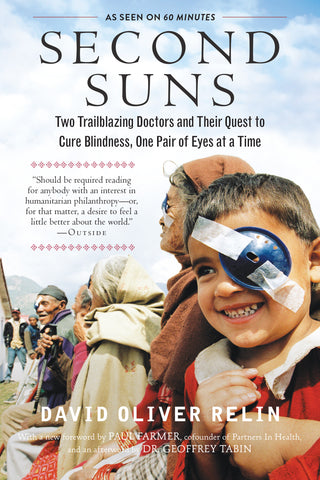 Second Suns
The extraordinary chronicle of two doctors "bringing light to those in darkness" (Time)—the "miracle workers" whose story is featured on 60 Minutes

Second Suns is the unforgettable true story of two very different doctors with a common mission: to rid the world of preventable blindness. Dr. Geoffrey Tabin was the high-achieving "bad boy" of his class at Harvard Medical School. Dr. Sanduk Ruit grew up in a remote village in the Himalayas, where cataract blindness—easily curable in modern hospitals—amounts to an epidemic. Together, they pioneered a new surgical method, by which they have helped restore sight to over 4 million people—all for about $20 per operation.
 
#1 New York Times–bestselling author David Oliver Relin brings the doctors' work to vivid life through poignant portraits of their patients, from old men who can once again walk treacherous mountain trails, to children who can finally see their mothers' faces. The Himalayan Cataract Project is changing the world—one pair of eyes at a time.